APAO Student Scholarship
Scholarship Information
A $2,500 scholarship will be awarded 
In the event we are unable to hold an in-person conference this year due to COVID-19, this year's recipient will not receive the award in person
Eligibility Criteria
AAPA member (or applicant)
PA student in their last year enrolled in a ARC‐PA‐accredited program
Clinical phase (completed basic science courses or near completion)
Applicant has not previously received a PA foundation or other specialty organization scholarship
Applicant has a strong interest in pursuing a career in the oncology field
A clinical rotation in an oncology specialty is strongly encouraged but not required
Applicant must be graduating from their program between May 1, 2022 and August 31, 2022
Applicant must have a minimum GPA of 3.0. If your program does not provide a numerical GPA (i.e. PASS/FAIL), the program director/designee must provide an explanation of the grading system
Instructions‐ Please Read Carefully
Electronic Application is preferred
All Information should be typed
Brevity is encouraged, but additional sheets may be included if needed to fully respond to questions
Additional unsolicited information that does not pertain directly to the questions in the application will not be forwarded to the selection committee.
The application package must include

One copy of the application form
Two personal statements (500 words or less)
One copy of an official or signed unofficial transcript from the PA Program
One copy of the Program Director/Designee Reference Form
One Letter of Reference from a Healthcare Professional who can attest to the applicant's interest in oncology

ALL MATERIALS MUST BE RECEIVED BEFORE THE APPLICATION DEADLINE!
APPLICATION DEADLINE FOR 2022:  April 30, 2022
Methods for Submission
The APAO offers free membership to all students.  Scholarship applicants will automatically be registered as an APAO Student Member at no charge.
Congratulations to Sarah Leach, Julia Piwowaeski, Isabel Burick and, Francesca Mertan APAO 2021 Student Scholarship Winners!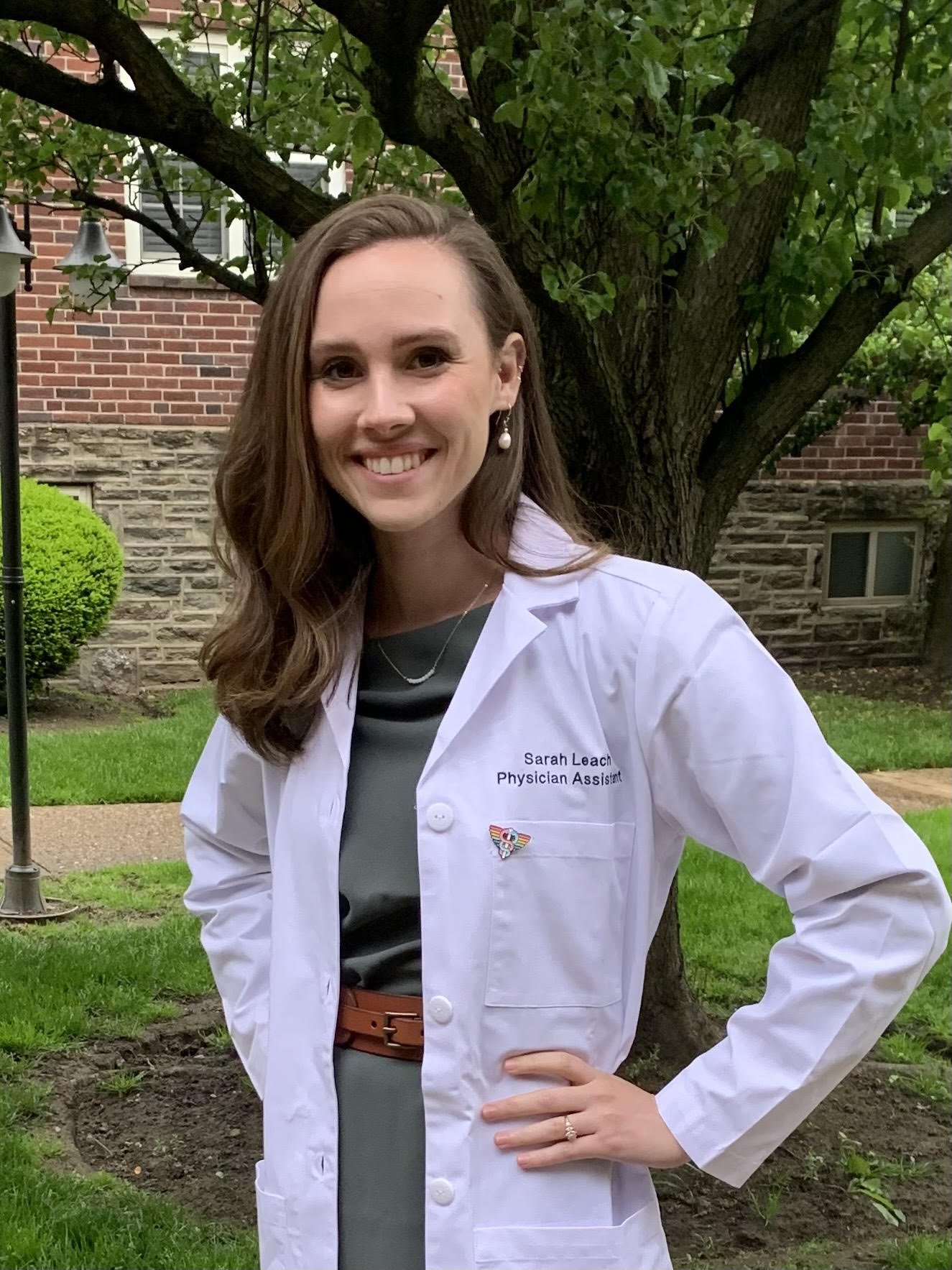 Sarah Leach 
After graduating from Penn State, where she developed an interest in both research and public health, Sarah Leach moved to New York City to work as a clinical research coordinator with Columbia University's Herbert Irving Comprehensive Cancer Center. There she had the opportunity to work on numerous clinical trials and tissue banking studies with patients with hematologic malignancies. Over her four years there she developed close relationships with her patients and became intimately acquainted with their families, their courses of treatment, and their challenges. She wanted to be able to do more for them in terms of care and began Physician Assistant school at Arcadia University in the spring of 2019. Through Arcadia she was able to continue with her background in research and completed a capstone project comparing vaccination to antiviral prophylaxis in preventing herpes zoster in patients with post-hematopoietic stem cell transplant. As a new graduate she hopes to work both clinically with oncologic patients as well as to continue with research to help improve best practices in the field.
 
Julia Piwowarski
Julia's passion for oncology stemmed from her grandmother, Mimi, who battled colon cancer in 2010. After seeing Mimi go through chemotherapy treatments and subsequent hospice care, Julia's fear of cancer transformed into the desire to understand it.
Julia went on to earn her BS in Biochemistry with a minor in Hispanic Studies from Boston College in 2017. During those years, she spent much of her time in oncology research at Beth Israel Deaconess Medical Center with Dr. Dipak Panigrahy where she studied the anti-inflammatory effects of bioactive lipids in the tumor microenvironment. After graduating, she moved to Atlanta, GA, to continue research at Emory Medical School with Dr. Vikas Sukhatme where she studied the use of perioperative nonsteroidal anti-inflammatory drugs to prevent breast cancer recurrence. To gain more translative, clinical experience, she moved back to Boston to be a Regulatory Coordinator in breast oncology at Dana Farber Cancer Institute. Despite her love of research, she felt compelled to serve patients at the bedside. In 2019, she entered PA school at the University of Saint Joseph in West Hartford, CT, where she gained elective Hematology/Oncology experience at the Midstate Cancer Center. Julia concluded her studies at USJ in May with her Capstone Project titled, "Tumor-Associated Macrophages are Predictive of Refractory Hodgkin's Lymphoma."
Julia will be moving to Salt Lake City, UT where she will be a Reconstructive Urology PA at the University of Utah Hospital. There she will gain experience with urologic oncology patients as well as transgender patients undergoing gender affirmation surgery, which has become another passion of hers. Julia's goal is to fiercely protect both the patients' sense of self and their quality of life at every step of the journey, no matter how small. She looks forward to continuing oncology research alongside her time in the clinic, and she is excited to serve patients in the specialty that she has gravitated towards for over 10 years.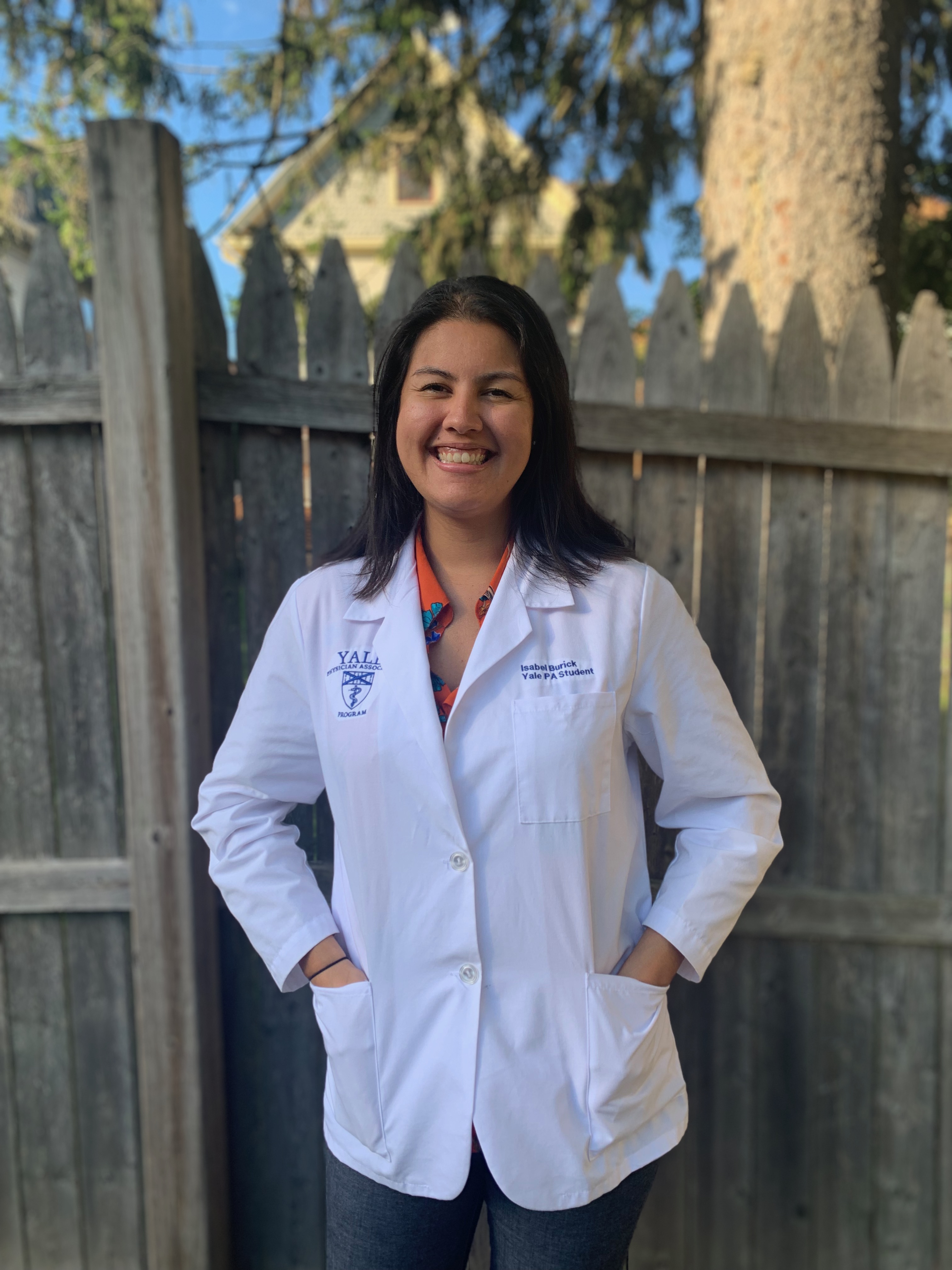 Isabel Burick
Isabel's passion for oncology stems from her experience as a Clinical Assistant for Maryland Oncology Hematology, an outpatient practice located in Silver Spring, MD. In this position she worked closely with the lead physician and his patients, acting as both a scribe and patient navigator for two years. She was present every step of the way, from the patient's initial consultation appointments, to their first day of treatment, and surveillance follow-up visits. She quickly became invested in her patients and made great personal relationships with each of them, especially during such an emotional time in their lives. With her experience she recognized that cancer impacts a patient's physical, mental, and financial well-being, and requires a more comprehensive care plan compared to other medical specialties. Isabel was inspired by the dedication and empathy of her collaborating clinicians, and so she continued her journey to PA school in hopes of one day returning to oncology as a healthcare provider. She is now part of the upcoming graduating class of Yale University Physician Associate program this December 2021.
During her clinical rotations she has had the opportunity to work inpatient and outpatient settings in both hematology-oncology and solid tumor oncology at Yale Smilow Cancer Center. She has further supplemented her knowledge with rotations in geriatrics, palliative care, and dermatology-oncology. Her interest in oncology is further reflected in her thesis, which explores the use of artificial intelligence decision support aids to improve the diagnosis of triple negative breast cancers. She is fortunate to have worked with amazing mentors in their respective oncologic specialties and looks forward to using her newfound knowledge and skill to provide the best care possible to her future patients.
---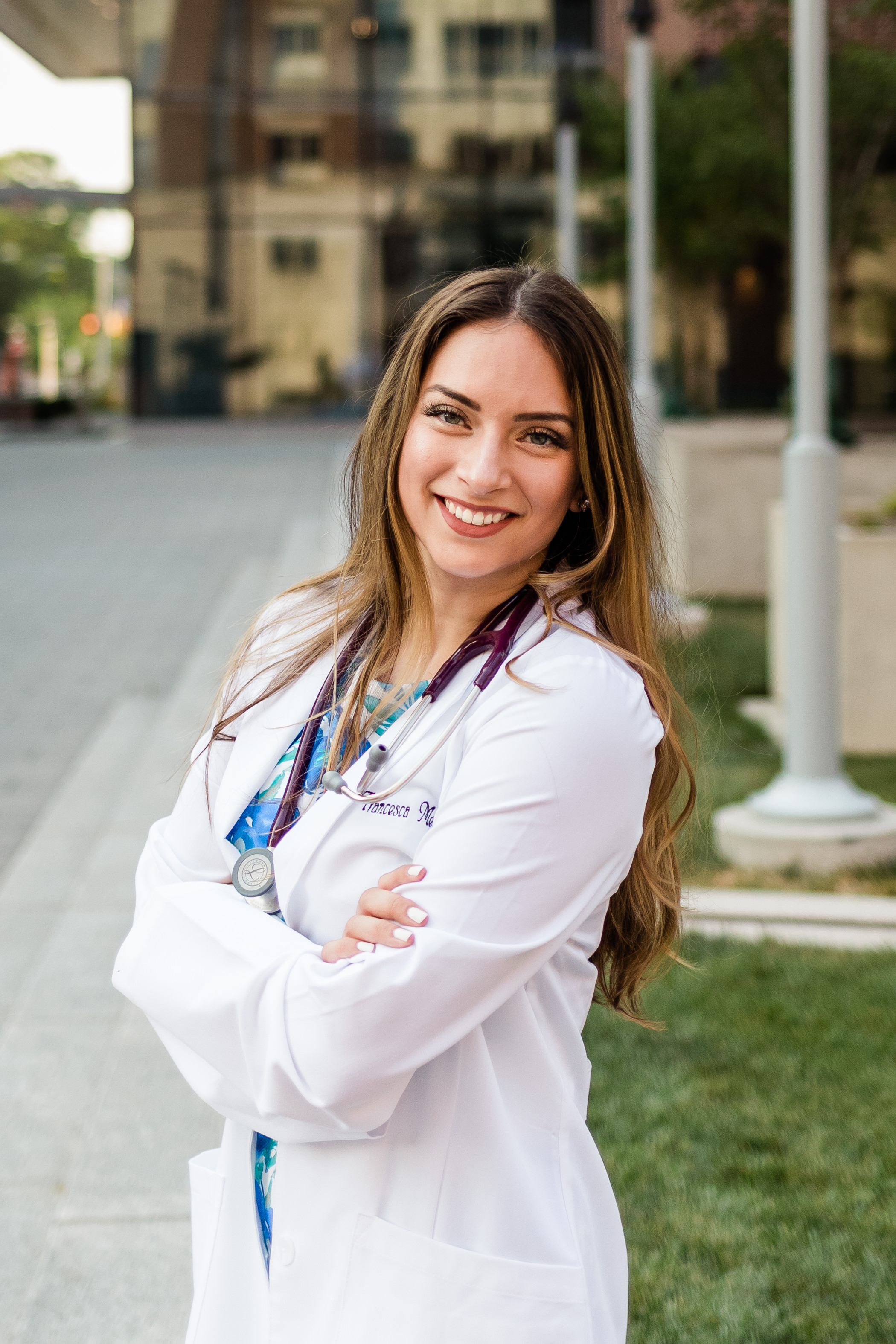 Francesca Mertan
---
After graduating with a degree in Mechanical Engineering, Francesca began working at the National Institutes of Health as a Cancer Research Training Award fellow where she had the opportunity to author and co-author multiple publications in numerous medical journals. Her work was primarily focused on early detection of prostate cancer using novel imaging technology. This work provided an opportunity to observe a high functioning, collaborative team in a diverse environment surrounded by some of the top cancer researchers and medical providers. With the goal of redirecting her impact in the oncology field from detection to treatment and patient care, Francesca enrolled in the University of Maryland Baltimore Physician Assistant program. Through multiple personal experiences with family and friends being treated for cancer, along with her time at the NIH, she saw the need for a strong connection among patient, family, and provider throughout the decision-making and treatment process. These experiences allowed her to quickly identify where her passions and background would be most effective in her role as a provider in facilitating these relationships and providing support throughout treatment.

Francesca naturally gravitated to oncology because of the collaborative environment, the use of novel technology/treatments, as well as the opportunity for deep connections and interaction with patients which are all organic to the role of a provider in the field. In some of the most vulnerable times for patients, Francesca wants to provide hope for the future through patient autonomy, clear communication, and shared decision making throughout the treatment plan.

In her free time, you can find her traveling and capturing memories through photography or spending time with her two goldendoodles Lilo and Zoey. Francesca graduated PA school in July of 2021 and is excited to begin her career in Radiation Oncology.
---