APAO Lifetime Achievement Award 
2022 Winner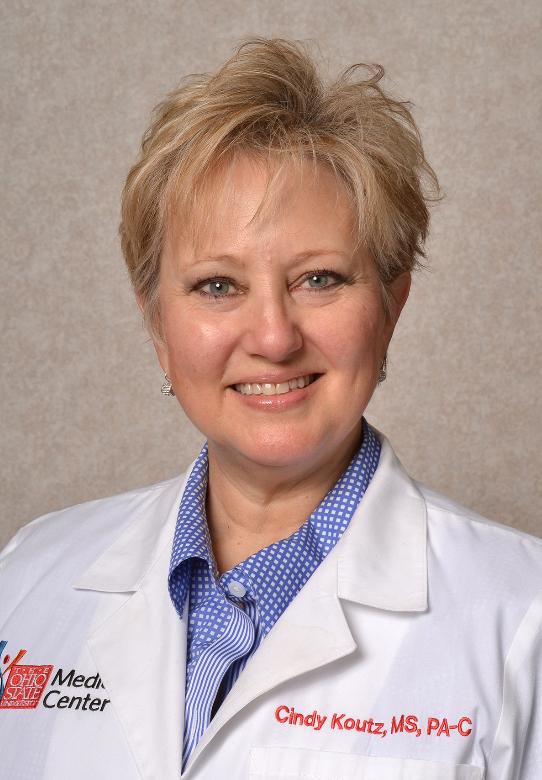 Cindy Koutz, PA-C
Cindy Koutz is an exceptional reconstructive surgical oncology physician assistant. Cindy has 25 years of experience as a PA-C, all of which have been dedicated to the care of oncology patients.  She began her practice at the University of Texas MD Anderson Cancer Center upon graduation. She has practiced at The Arthur James Cancer Hospital and Richard Solove Research Institute at the Ohio State University Comprehensive Cancer Center since 2008.  Her 25 years of oncology practice include assessing new patients for surgery in clinic, assisting in the operating room with plastic surgery reconstruction and providing care for post operative oncology patients in the outpatient setting, through independent clinics as well as alongside physician colleagues.  She is a consummate preceptor.  She is involved with APAO and has encouraged others to become involved, citing the importance of physician's assistants joining APAO as a way of contributing to their profession. Cindy has been a Lead advanced practice provider since her arrival to the James Cancer Hospital.  Because of her dedication and natural leadership characteristics, in 2019 she was promoted to manager of all surgical oncology Advanced Practice Providers (APPs) while still maintaining a clinical practice in oncologic reconstruction.  During her tenure as manager, she has created a nurturing environment which promotes excellence in practice and emotional intelligence in the workplace as a key job skill. She developed the advanced practice provider role in our plastic surgery inpatient service, which provides exemplary care to oncology patients recovering from reconstructive surgery.  Ms. Koutz has also played an integral role in developing the conversion of an oncologic robotic surgery technician team from an exclusively surgical technician role to physician assistants who can provide care across the surgical continuum. The addition of the physician assistants to this team helped streamline the day of surgery, promoting on time starts and seamless post operative care. She serves co-lead on a multidisciplinary CAUTI prevention task force, proving to be a champion for the APP role in prevention of hospital acquired infections.  Ms. Koutz is currently working with an interdisciplinary work group to eliminate factors related to delayed surgical discharges.  While examining this problem she has demonstrated the ability to take a creative approach to old problems and the ability to address barriers without fear.  Cindy exemplifies what a surgical oncology physician's assistant should be.  She is a role model, nurturer, and leader for others.  For these reasons, we believe she should be recognized for her lifetime of service and exemplary clinical practice.  
---
The APAO Lifetime Achievement Award recognizes an exemplary PA serving in the field of oncology.  The recipient is presented with the award at the annual APAO Oncology Symposium.
The recipient of the award will receive the following:
Lifetime Membership to APAO
Complimentary registration to the APAO Oncology Symposium where the award will be presented
Three night's stay at the conference hotel
Travel reimbursement of up to $500.00 to attend the Symposium
Colleagues are welcome to nominate a PA in Oncology who have met the following qualifications:
PA in Hematology/Oncology, Surgical Oncology, Radiation Oncology, or another related subspecialty for at least 10 years

Nominee must be a member of APAO

Current Members of the APAO Board of Directors are not eligible for nomination
Nominators will be required to submit:
A completed Nomination Form
A copy of the Nominee's CV
CLICK HERE to access the award nomination form.
DEADLINE TO SUBMIT:  April 30, 2022.
 *In the event we are unable to hold an in-person conference this year due to COVID-19, this year's recipient will not receive the award in person.
Past Recipients Include:
Alisha T. DeTroye, MMS, PA-C, DFAAPA
Risa Zimmerman, MBA, MPAS, PA-C, DFAAPA
JJ Mahany, Jr., PA-C
Todd Pickard, PA-C
Jeremy Heinerich, PA-C
Heather Hylton, PA-C