APAO Student Scholarship
Scholarship Information
A $2,500 scholarship will be awarded 
In the event we are unable to hold an in-person conference this year due to COVID-19, this year's recipient will not receive the award in person
Eligibility Criteria
AAPA member (or applicant)
PA student in their last year enrolled in a ARC‐PA‐accredited program
Clinical phase (completed basic science courses or near completion)
Applicant has not previously received a PA foundation or other specialty organization scholarship
Applicant has a strong interest in pursuing a career in the oncology field
A clinical rotation in an oncology specialty is strongly encouraged but not required
Applicant must be graduating from their program between May 1, 2023 and August 31, 2023
Applicant must have a minimum GPA of 3.0. If your program does not provide a numerical GPA (i.e. PASS/FAIL), the program director/designee must provide an explanation of the grading system
Instructions‐ Please Read Carefully
Electronic Application is preferred
All Information should be typed
Brevity is encouraged, but additional sheets may be included if needed to fully respond to questions
Additional unsolicited information that does not pertain directly to the questions in the application will not be forwarded to the selection committee.
The application package must include

One copy of the application form
Two personal statements (500 words or less)
One copy of an official or signed unofficial transcript from the PA Program
One copy of the Program Director/Designee Reference Form
One Letter of Reference from a Healthcare Professional who can attest to the applicant's interest in oncology

ALL MATERIALS MUST BE RECEIVED BEFORE THE APPLICATION DEADLINE!
APPLICATION DEADLINE FOR 2023:  April 30, 2023
Methods for Submission
The APAO offers free membership to all students.  Scholarship applicants will automatically be registered as an APAO Student Member at no charge.
Congratulations to Chace Carpenter and Kayla Trockman APAO 2022 Student Scholarship Winners!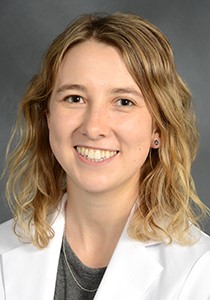 Chace Carpenter
What is your motivation for choosing to work in Oncology as a PA?:
"Radiation therapy, the science of hope" is the message that welcomes patients into the Radiation Oncology department at the University of Vermont Medical Center. This message inspired me daily working as a radiation therapist, and I still carry this idea to all oncology patients as I continue my education toward becoming a PA. Oncology is fascinating to me, both clinically and on a cellular level, and while treating such a multifaceted disease is hugely demanding, it is very motivating. In choosing to become a radiation therapist, I gained practical knowledge in medical imaging, radiation and tumor biology, and the treatment pathways for various diseases. As a therapist, I used specific skills to treat cancer and interacted directly with patients assessing their particular physical and psychological needs while undergoing curative and palliative treatment. My former occupation also helped me understand that I wanted to take on a more advanced role beyond administering treatments. I want to further my education to diagnose, direct treatment, and facilitate patient education. I pursued this interest in PA school by completing multiple elective placements in oncology. These electives included rotations at Weill Cornell in gynecology oncology, radiation oncology, and inpatient hematology-oncology on leukemia, lymphoma, and bone marrow transplant services. Additionally, I completed head and neck surgery rotations at Memorial Sloan Kettering and gastrointestinal oncology and at MD Anderson Cancer Center. Through these incredible experiences, I gained confidence in my training as an oncology provider, not only in the treatment management of different sites of disease but in the unique treatment sequela and multidisciplinary care needed for oncology patients. I was also exposed to PAs' scope of practice and role in multiple oncology settings, from inpatient outpatient to the operating room. I found the inpatient setting and the collaborative care between the PA, attending, and multidisciplinary services to be my preferred environment, where providers can follow patients through their hospital course, creating meaningful patient-provider relationships. This led me to pursue and accept a position at Dana Farber Cancer Center, where I will join their inpatient oncology, solid tumor service this fall. Finally, I have been able to pursue multiple research opportunities within oncology, which have deepened my interest in the field. These include research in the University of Vermont's High-Risk Breast Cancer Program and the Molecular Imaging Summer Program at Memorial Sloan Kettering, studying Cerenkov radiation. Additionally, I completed my master's thesis on proton reirradiation for recurrent and second primary head and neck cancer. These experiences showed me I want to continue pursuing research over a long career in medicine, balancing clinical practice with clinical research to become a lifelong learner and clinician, and shaping me as a PA as I evaluate, discuss, and incorporate research into my practice. My previous experiences as a radiation therapist, in oncology research, and in clinical rotations have proved to me that I want to pursue a career in oncology. I will continue to inspire the message of hope that stays with me as I practice as a PA.
 
Kayla Trockman
What is your motivation for choosing to work in Oncology as a PA?:
This specialty holds personal significance to me as my mother was diagnosed with breast cancer while I was completing my undergraduate degree. I saw first-hand how challenging the treatment course can be for patients and how an unexpected cancer diagnosis can be debilitating. Upon hearing this news, my mother was overwhelmed with anxiety and uncertainty about her diagnosis and prognosis, and I directly saw the impact this had on her mental health. Despite the many differences among cancer states, interventions, and prognoses, all cancer patients deserve adequate clinical care as well as empathetic support during the treatment process. I found Dr. Caragacianu's work at the Breast Cancer Center particularly inspiring as she successfully cared for patients, similar to my mom, and provided the support and encouragement they needed to remain strong and overcome these challenges. Seeing the effect of a supportive and dedicated care team reminded me of how my mother transitioned from her immediate angst to being driven and upholding a positive outlook regarding her diagnosis. The heartwarming encounters I had with patients at The Breast Center, who openly expressed their gratitude for the sincere and genuine care received from the team, enhanced my appreciation for this specialty. I aspire to emulate that support system for each patient, aiming to be a source of comfort and reliability to motivate and help them throughout their treatment course and beyond. I believe my compassionate and dependable nature along with my strong clinical background, augment my ability to establish trustworthy patient relationships within the oncology field. Through my mother's breast cancer history and two rotations with Dr. Caragacianu at the Cancer Center, I developed a profound passion for following a patient's clinical course and having a role in their recovery; which ultimately confirmed my interest to pursue a career in Oncology. Oncology patient encounters require in-depth conversations, empathetic communication skills, and supportive guidance to develop individualized care plans to achieve the best possible outcomes, which I am capable of executing. I will employ my previous experiences and proficient skills to go above and beyond for each patient in order to provide high-quality care as well as earn patient satisfaction.